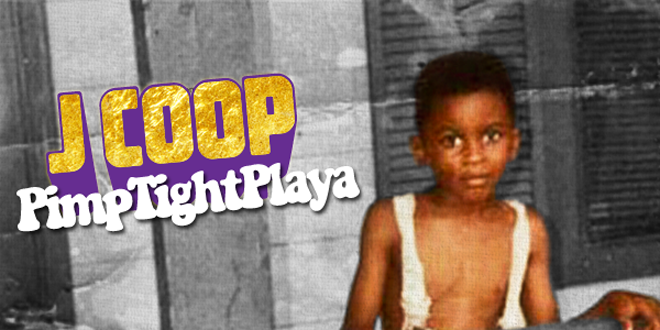 Atlanta MC J-Coop uses his everyday trials & tribulations to inspire his music. Those experiences came full-circle on his debut LP "Pimp Tight Playa". Only weeks away from heading to South Carolina to join the Army in hopes of providing a better life for his family the soft-spoken humble MC stated, "At one point I wasn't even going to put it out until I was done with basic training, but I said I might as well go ahead and let the world hear it. I'm just real excited to see it man, ready to see what the people think about it, how it sounds." With amazing sample choices, and jazzy knocking beats provided by Introspective Minds (9-tracks) and Str8OutDaDen (6 Tracks), Coop flows tirelessly throughout the LP evoking his message of cultural unity and awareness at an even higher level.  Repping the Thumbs Up crew (Will, Abib Jahleel, Introspective Minds) the talented wordsmith has a complex yet vocally calm flow with wordplay relatable to a young Lupe Fiasco. The 15-track LP will leave you posted in your seat not changing the dial unless the volume is too low, especially on standouts "Crank The JAM", "South Side Party" and "Pimp Tight". The project was more than just making music for Coop as some of his closest friends and associates were made during the process of creating "Pimp Tight Playa".
Download J-Coop's Debut LP: "Pimp Tight Playa"
RubyHornet: When did you start working on "Pimp Tight Playa"? Can you describe the process of making the album?
J-Coop: Man I've been working on this since… Man I was working with Will (Thumbs Up) on his Stoned on Marta project and at the time I wasn't up on the Introspective Minds beats and he used to just come over and play these beats. At that point it really changed my whole approach, to my music and my project after hearing those beats. It was just something else. I went to the website and downloaded a bunch of beats and started getting in touch with them. It wasn't originally Pimp Tight Playa but after I started working on some songs, they all sort of came together that way. I had a lot of songs that I'd been working on but everything didn't make the cut because I was getting better and better, with a lot of different ideas and concepts. It really came together by itself, well not by itself but the vision came clear during that time. I was doing a lot of reading, watching a lot of movies I'd never seen just learning. That really influenced what I was doing right there.
Read on & stream the LP on the next page…