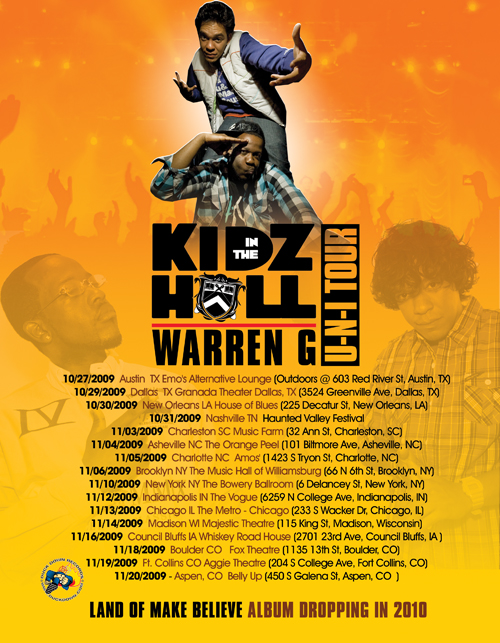 Kidz In The Hall just locked down CMJ, and are now readying to hit the road in full force.  Naledge and Double O put the finishing touches on the new LP, Land of Make Believe, and will be performing some new tracks during their shows with Warren G and U-N-I.  Naledge gave me a little sneak peak of the new album before he left to NYC, and it was very crisp.  Hit the jump to see the full tour schedule below. Look for a new edition of Naledge's Kidz On The Road blog starting very soon!
Press Release:
The group has completed their upcoming album, LAND OF MAKE BELIEVE, in stores early 2010, and is ready to take the new music and growing catalog of records back on the road.
Be on the look out for Kidz In The Hall's upcoming video for "JUKEBOX" directed by BB GUN. The latest single off LAND OF MAKE BELIEVE will be available at iTunes and all other digital retail outlets on November 10th.
Kidz In The Hall – Warren G – U-N-I Tour Routing:
10/27/2009  Austin  TX Emo's Alternative Lounge (Outdoors @ 603 Red River St, Austin, TX)
10/29/2009  Dallas  TX Granada Theater Dallas, TX (3524 Greenville Ave, Dallas, TX)
10/30/2009  New Orleans LA House of Blues (225 Decatur St, New Orleans, LA)
10/31/2009  Nashville TN  Haunted Valley Festival
11/03/2009  Charleston SC Music Farm (32 Ann St, Charleston, SC)
11/04/2009  Asheville NC The Orange Peel (101 Biltmore Ave, Asheville, NC)
11/05/2009  Charlotte NC  Amos' (1423 S Tryon St, Charlotte, NC)
11/06/2009  Brooklyn NY The Music Hall of Williamsburg (66 N 6th St, Brooklyn, NY)
11/10/2009  New York NY The Bowery Ballroom (6 Delancey St, New York, NY)
11/12/2009  Indianapolis IN The Vogue (6259 N College Ave, Indianapolis, IN)
11/13/2009  Chicago IL The Metro – Chicago (233 S Wacker Dr, Chicago, IL)
11/14/2009  Madison WI Majestic Theatre (115 King St, Madison, Wisconsin)
11/16/2009  Council Bluffs IA Whiskey Road House (2701 23rd Ave, Council Bluffs, IA?)
11/18/2009  Boulder CO   Fox Theatre (1135 13th St, Boulder, CO)
11/19/2009  Ft. Collins CO Aggie Theatre (204 S College Ave, Fort Collins, CO)
11/20/2009 – Aspen, CO  Belly Up (450 S Galena St, Aspen, CO? )