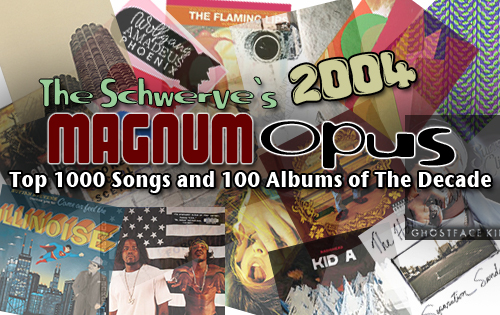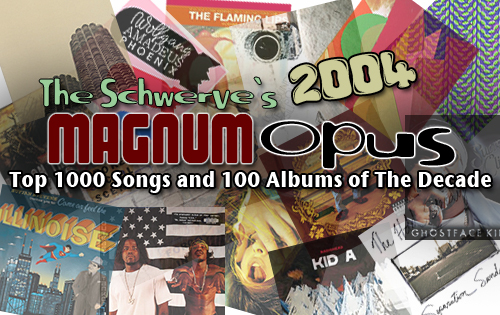 Disclaimer: Years are fairly arbitrary time periods.  The only thing that makes a decade is the human conditions' odometer fetish.  Unfortunately, like you, I'm human as well and fall prey to these tendencies.  I can't claim to know everything, I'm just an educated observer; and here are my educated observations.  They are not perfect and neither you nor I will completely agree with them in a years time, but that is the fun of lists. 
Many of the best albums from this year would not have been on my list in 2004.  The Futureheads, Cut Copy, M83, Drive-By Truckers and Ponys grew on me over the years.  Even with the Wilco album, I didn't like it on first listen, but after seeing them perform the songs live it struck a cord.  Also, while I think we all agree Kanye is a bit of a Jackass, we can also he still makes some great music. 
A few songs to look for, the live version of Ratatat – Seventeen Years is great, Animal Collective – Who Could Win a Rabbit is a wonderfully bad acid trip, and  the South Park Guy's song, Montage, is one of my all-time favorites. 
Top 10 Albums of 2004:
10.  The Ponys – Laced With Romance
9.  The Drive-By Truckers – The Dirty South
8.  Junior Boys – Last Exit
7.  Franz Ferdinand – Franz Ferdinand
6.  M83 – Dead Cities, Red Seas, and Lost Ghosts
5.  Kanye West – College Dropout
4.  Cut Copy – Bright Like Neon Love
3.  Wilco – A Ghost Is Born
2.  The Futureheads – The Futureheads
1.  The Arcade Fire – Funeral
Top 100 Songs of 2004:
100. Mylo – Destroy Rock and Roll (video)
99. Jens Lekman – I Saw Her in the Anti-War Demonstration
98. Wilco – Hell Is Chrome
97. Valley of the Giants – Westworld
96. The Drive-By Truckers – The Day John Henry Died
95. Cat Power – I Don't Blame You (video)
94. Cut Copy – Saturdays (video)
93. Junior Boys – Last Exit
92. Cake – No Phone (video)
91. Liars – We Fenced Other Houses With the Bones (video)
90. Scissor Sisters – Take Your Mama (video)
89. Dungen – Panda (video)
88. The Futureheads – Meantime (video)
87. Of Montreal – My British Tour Diary
86. Trey Parker & Matt Stone – Montage (video)
85. The Secret Machines – First Wave Intact
84. The Streets – Blinded by the Lights (video)
83. Wilco – Handshake Drugs (video)
82. The Ponys – 10 Fingers and 11 Toes
81. Joanna Newsom  – Sprout and the Bean (video)
80. The Helio Sequence – Don't Look Away (video)
79. Interpol – Evil (video)
78. Jonathan Coulton – Skullcrusher Mountain
77. The Drive-By Truckers – Carl Perkin's Cadillac
76. Kanye West – Jesus Walks (video)
75. Franz Ferdinand – Michael (video)
74. Tom Waits – Top of the Hill
73. Jens Lekman – A Sweet Summer Night on Hammer Hill
72. Feist – Mushaboom (video)
71. Cut Copy – Time Stands Still (video)
70. Mahjong – Aluminum (video)
69. Air – Surfin on a Rocket (video)
68. The Go! Team – Ladyflash (video)
67. Hot Snakes – Braintrust (video)
66. The Hold Steady – Knuckles
65. Morrissey – Irish Blood, English Heart (video)
64. The Good Life – Album of the Year
63. Scissor Sisters – Comforably Numb (video)
62. The Futureheads – First Day (video)
61. Arcade Fire – Neighborhood #1 (Tunnels) (video)
60. !!! – Hello? Is This Thing On? (video)
59. Wilco – Hummingbird (video)
58. Devendra Banhart – Little Yellow Spider (video)
57. The Magnetic Fields – I Looked All Over Town
56. Junior Boys – Bellona
55. Liars – There's Always Room on the Broom (video)
54. Trey Parker & Matt Stone – America, Fuck Yeah (song)
53. Death From Above 1979 – Black History Month
52. The Ponys – Little Friends
51. Of Montreal – Disconnect the Dots (video)
50. Kanye West – Spaceship (video)
49. Animal Collective – Leaf House (video)
48. Cat Power – Free
47. The Secret Machines – Sad and Lonely (video)
46. Ratatat – Seventeen Years (video)
45. The Helio Sequence – Everyone Knows Everyone (video)
44. Bloc Party – Banquet (video)
43. Dizzee Rascal – Dream (video)
42. Cut Copy – That was Just a Dream
41. Joanna Newsom – Bridges and Balloons
40. Franz Ferdinand – Take Me Out (video)
39. Interpol – Slow Hands (video)
38. The Futureheads – Decent Days and Nights (video)
37. Belle & Sebastian – Your Cover's Blown
36. Cat Power – He War (video)
35. Black Keys – 10 A.M automatic (video)
34. Mylo – Drop the Pressure (video)
33. Scissor Sisters – Laura (video)
32. Ted Leo & The Pharmacists – Me and Mia (video)
31. TV on the Radio – The Wrong Way (video)
30. Arcade Fire – Neighborhood #3 (Power Out) (video)
29. Wilco – Spiders (Kidsmoke) (video)
28. The Drive-By Truckers – Where the Devil Don't Stay
27. The Hold Steady – The Swish (video)
26. Ratatat – Germany to Germany (video)
25. The Ponys – Let's Kill Ourselves
24. M83 – America (video)
23. The Streets – Fit But You Know It (video)
22. Regina Spektor – Us (video)
21. Franz Ferdinand – The Dark of the Matinee (video)
20. The Futureheads – Hounds of Love (video)
19. Junior Boys – Birthday
18. Kanye West – Through the Wire (video)
17. Arcade Fire – Rebellion (Lies) (video)
16. !!! – Dear Can
15. The Magnetic Fields – I Wish I Had a Evil Twin
14. Mclusky – She Will Only Bring You Happiness (video)
13. Secret Machines – Nowhere Again (video)
12. Cut Copy – Going Nowhere (video)
11. Death From Above 1979 – Romantic Rights (video)
10. Erlend Oye – The Black Keys Work
9. Xiu Xiu – I Luv the Valley OH!
8. Jens Lekman – You Are the Light (video)
7. The Eagles of Death Metal – I Only Want You (video)
6. Animal Collective – Who Could Win A Rabbit (video)
5. Snoop Dogg – Drop It Likes It's Hot (video)
4. Arcade Fire – Neighborhood #2 (Laika)
3. M83 – Run Into Flowers (video)
2. LCD Soundsystem – Yeah (Crass Version)
1. The Walkmen – The Rat (video)