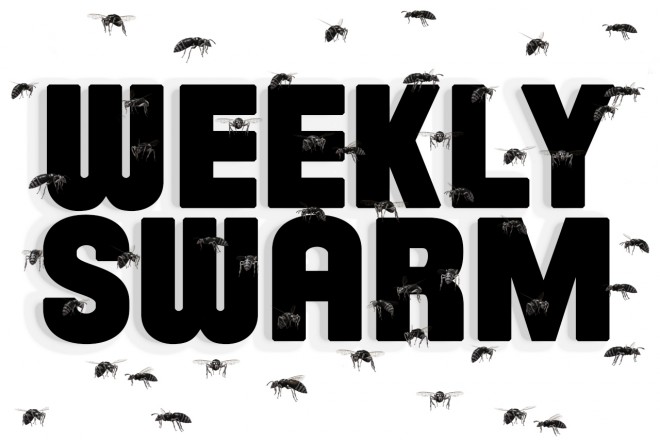 The new generation of video games has officially begun this past Friday with the launch of Sony's PlayStation 4. We're living in the future, everybody. It's only a matter of time before we all become cyborgs and fall in digital love with robots and androids. Of course, this is many, many years in the future. For now, we still have to deal with eating food and sleeping and sicknesses. I suffered from a life-threatening cold at the beginning of the week last week, but I'm happy to report that I'm 90% free from the bug. It also didn't hurt that I spent a good amount of my weekend gaming on the aforementioned PS4. Life is good.
Ruby Hornet is good, too, with another awesome week of content. We had everything from the first trailer for Noah, an amazing 30 for 30 spoof on Space Jam, a new Wes Anderson short film, reviews for both Go for Sisters and Charlie Countryman, Aaron Cohen's latest mixtape, our Fun Fun Fun Fest recap, ShowYouSuck's new single from Dude Bro, BENEFIT'S return, Childish Gambino's brilliant music video with Abella Anderson, live photography from FFF Fest, news that Amazon packages will be delivered on Sundays, PaRappa the Rapper's rumored return to video games, our Top 10 Best PS3 games, and so much more.
Check out everything we did last week below!

Weekend Box Office: Thor: The Dark World lays the hammer down
[Trailer] Lone Survivor
Disney is accepting online audition tapes for Star Wars Episode VII
Girls' Adam Driver considered for Batman vs. Superman
Kate Upton might become a part of the Entourage
Jason Statham replaces Daniel Craig in Layer Cake sequel
Hanna director Joe Wright in talks for Peter Pan origin story
First official poster of Angelina Jolie as Maleficent
Drew Goddard is writing Netflix's Daredevil series
[Video] 30 for 30: Tune Squad vs. Monstars: The Space Jam Game
[Trailer] Maleficent
[Trailer 2] Divergent
[Trailer] #chicagoGirl: The Social Network Takes On A Dictator
[Short Film] Castello Cavalcanti
[Netflix Pix] Europa Report
[Trailer] Noah
[RH Review] Charlie Countryman
[RH Review] Go for Sisters
[Short Film] The Four Players
[Video] theWHOevers: "TIMEOUT"
[Video] 2 Chainz: "Fork"
Jean Deaux: "Grape Soda"
[Video] Drake: "Worst Behavior"
[Mixtape] Aaron Cohen: "Potential Fans"
Brian Fresco: "Circumstances" (feat. C. Rich)
[Video] Jhene Aiko: "The Worst"
[RH Interview] The Tontons at Fun Fun Fun Fest
[Video] Alex Wiley: "Own Lane"
Jarred A.G.: "Pastures" (prod. Smoko Ono)
Sampha: "Happens"
[Video] World's Fair: "Sammy Sosa"
[Video] Kenna: "Relations" Remix (feat. Childish Gambino)
ShowYouSuck: "Make-Out King" (prod. by Javelin & The Hood Internet)
Fun Fun Fun Fest 2013 Recap
[Mixtape] Doc Da MindBenda: "Welcome To The Grindhouse"
[Video] Roc Marciano: "Sacrifice" (prod. by Madlib)
[Video] Calez: The American Dream Concept Ep. 1
[Video] Ibn Inglor: "BLACK PRINT"
[Video] Lorde Performs on Letterman
[RH First Glance] Lava King: "LavaLamp"
The Weeknd: "Devil May Cry"
[Video] Benefit: "So Sick"
[RH First Look] Aaron Cohen
Dre Green & The GTW: "Neymar Night"
[Video] Vic Mensa, Bun B, A$AP Rocky Freestyle on MTV's Rapfix Live
ProbCause, Caleb James & More Perform Live at Lincoln Hall (11/14/13)
[Video] Brian Fresco: "Piece of Mind"
[Video] SZA: "Ice Moon"
[Video] Lily Allen: "Hard Out Here"
Blended Babies: "See The World" (feat. Asher Roth & Chuck Inglish)
[Album] Death Grips: "Government Plates"
[Video] A$AP Rocky: "Phoenix"
KSRA: "Flying Balloon" (Justified Noise Remix)
[Video] M.I.A: "Y.A.L.A."
[Video] Ka: "You Know It's About"
[Video] Childish Gambino: "3005"
[Video] Disclosure: "Together" (Ft. Nile Rodgers, Sam Smith, Jimmy Nape)

Takashi Murakami & Angela Lindvall For Harper's Bazaar
[RH Photos] Fun Fun Fun Fest 2013
Victoria Secret's 2013 Fashion Show
[IG Weekly] Visualmemories_
[Video] Photographer Mel D Cole for Vans OTW Perspectives

Amazon will begin mailing packages on Sundays thanks to USPS
Rumor: Apple developing two larger iPhones
Amazon offering Buy 2, Get 1 Free sale on PlayStation 4 games
Never Answer Your Front Door Again With DoorBot
[Video] Killzone: Shadow Fall launch trailer
[Video] Is Nissan 3E Like Google Glass For Drivers?
PaRappa the Rapper rumored to return on PlayStation 4, PS Vita
Keep Your Old Memories New With The Doxie Flip Scanner
Make Life Easier With The Revolv Home Automation Hub
Top 10 PlayStation 3 Games