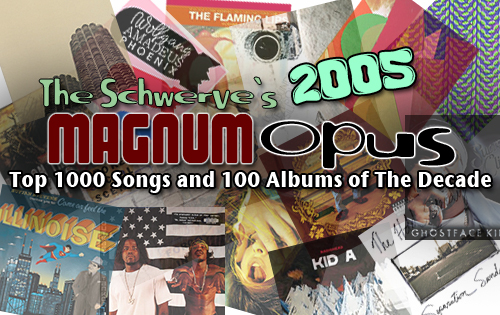 Disclaimer: Years are fairly arbitrary time periods.  The only thing that makes a decade is the human conditions' odometer fetish.  Unfortunately, like you, I'm human as well and fall prey to these tendencies.  I can't claim to know everything, I'm just an educated observer; and here are my educated observations.  They are not perfect and neither you nor I will completely agree with them in a years time, but that is the fun of lists. 
If you were in the basement environmental lab at the university of colorado at around 3am during 2005 you've heard all of these. No matter where I go I will always associate these songs with sleep deprivation and water chemistry.  Especially The Mountain Goats – This Year, that was my 4am anthem after 12 hours of slow experiments and strong coffee.
Check out the videos for The White Stripes – Denial Twist, starring Conan O'Brien and Daft Punk – Technologic, which is simply one of the creepiest videos ever made.
Top 10 Albums of 2005:
10.  The Boy Least Likely To – The Best Party Ever
9.  Wolf Parade – Apologies to the Queen Mary
8.  The Hold Steady – Separation Sunday
7.  The National – Alligator
6.  Art Brut – Bang Bang Rock & Roll
5.  LCD Soundsystem – LCD Soundsystem
4.  M83 – Before the Dawn Heals Us
3.  The Juan Maclean – Less Than Human
2.  Sufjan Stevens – Come on Feel the Illinoise!
1.  Spoon – Gimme Fiction
Top 100 Songs of 2005:
100.  Sleater-Kinney – Jumpers (video)
99.  Wolf Parade – You Are a Runner And I Am My Father's Son
98.  Art Brut – Emily Kane (video)
97.  The Hold Steady – Your Little Hoodrat Friend (video)
96.  Girls Aloud – Models (video)
95.  The White Stripes – Blue Orchid (video)
94.  Franz Ferdinand – The Fallen (video)
93.  The Juan Maclean – Tito's Way
92.  Boy Least Likely To – Hugging My Grudge (video)
91.  Daft Punk – Human After All 
90.  LCD Soundsystem – Movement (video)
89.  Clap Your Hands Say Yeah – Let the Cool Goddess Rust Away 
88.  M.I.A. – Galang (video)
87.  Mercury Rev – In a Funny Way (video)
86.  Metric – Monster Hospital (video)
85.  Super Furry Animals – Lazer Beam (video)
84.  Vitalic – Poney Part1 (video)
83.  Broken Social Scene – Fire Eye'd Boy (video)
82.  Stars – Set Yourself on Fire
81.  Gorillaz – Feel Good Inc (video)
80.  Wolf Parade – Modern World (video)
79.  Kanye West – Touch the Sky (video)
78.  O.U.T. H.U.D. – Dear Mr. Bush, There are Over 1000 Words for Shit and Only One For Music. Fuck You, Out Hud
77.  Animal Collective – Did You See the Words 
76.  Tapes 'n Tapes – Just Drums 
75.  Robyn – Handle Me (video)
74.  The Juan Maclean – Crush the Liberation
73.  The Rakes – 22 Grand Job (video)
72.  Of Montreal – The Party's Crashing Us 
71.  Bloc Party – Helicopter (video)
70.  Spoon – The Beast and Dragon, Adored 
69.  Daft Punk – Robot Rock (video)
68.  The White Stripes – The Denial Twist (video)
67.  Sufjan Stevens – Chicago (video)
66.  Boy Least Likely To – Be Gentle With Me (video)
65.  Art Brut – Good Weekend (video)
64.  The King Khan and BBQ Show – Waddlin' Around (video)
63.  The Decemberists – 16 Military Wives (video)
62.  !!! – Take Ecstasy with Me 
61.  Death from Above 1979 – Better off Dead
60.  Lady Sovereign – Random (video)
59.  The New Pornographers – Use It (video)
58.  Clor – Love + Pain (video)
57.  Goldfrapp – Ooh La La (video)
56.  Tapes 'n Tapes – Insistor (video)
55.  Royksopp – What Else Is There? (video)
54.  The National – Secret Meeting
53.  The Hold Steady – Hornets! Hornets! (video)
52.  LCD Soudnsystem – Yr City's A Sucker
51.  Envelopes – Sister In Love (video)
50.  Broken Social Scene – Ibi Dreams of Pavement (A Better Day) (video)
49.  Clap Your Hands Say Yeah – The Skin of My Yellow Country Teeth (video)
48.  The White Stripes – My Doorbell (video)
47.  M.I.A. – Bucky Done Gone (video)
46.  The Heavenly States – Pretty Life (video)
45.  Sufjan Stevens – John Wayne Gacy, Jr.
44.  Spoon – The Two Sides of Monseiur Valentine (video)
43.  The Decemberists – The Sporting Life
42.  The Cloud Room – Hey Now Now (video)
41.  Wolf Parade – I'll Believe In Anything (video)
40.  Isolee – Schrapnell
39.  Kano – P's and Q's (video)
38.  O.U.T. H.U.D. – One Life to Leave 
37.  Tom Vek – I Ain't Saying My Goodbyes 
36.  Animal Collective – Grass (video)
35.  Art Brut – Modern Art
34.  LCD Soundsystem – Tribulations (video)
33.  Architecture in Helsinki – Its 5! (video)
32.  Annie – Chewing Gum (video)
31.  Broken Social Scene – Superconnected (video)
30.  Okkervil River – For Real 
29.  The Hold Steady – Multitude of Casualties 
28.  Boy Least Likely To – I'm Glad I Hitched My Wagon to Your Star (video)
27. Devendra Banhart – I Feel Just Like A Child (video)
26.  The King Khan and BBQ Show – Fish Fight (video)
25.  Robyn – Be Mine! (video)
24.  LCD Soundsystem – Daft Punk is Playing at My House (
video
)
23.  Clap Your Hands Say Yeah – Over and Over Again (Lost and Found) (video)
22.  Boards of Canada – Dayvan Cowboy (video)
21.  Girls Aloud – Biology (video)
20.  Boris – Ibitsu
19.  Daft Punk – Technologic (video)
18.  Of Montreal – Wraith Pinned to the Mist and Other Games (video)
17.  Kanye West – Gold Digger (video)
16.  Ponys – I Wanna Fuck You
15.  The Juan Maclean – Give Me Every Little Thing (video)
14.  M83 – Teen Angst (video)
13.  Bloc Party – This Modern Love (video)
12.  Sufjan Stevens – Come On! Feel the Illinoise! (video)
11.  Art Brut – Formed a Band (video)
10.  Spoon – I Turn My Camera On (video)
9.  The National – Abel (video)
8.  The Mountain Goats – This Year (video)
7.  Goldfrapp – Number One (video)
6.  Vitalic – My Friend Dario (video)
5.  Broken Social Scene – 7/4 Shorelines (video)
4.  Annie – Heartbeat (video)
3.  Wolf Parade – Shine a Light (video)
2.  Architecture in Helsinki – Do the Whirlwind (video)
1. M83 – Don't Save Us From the Flames (video)