Tag:
Sole Junkie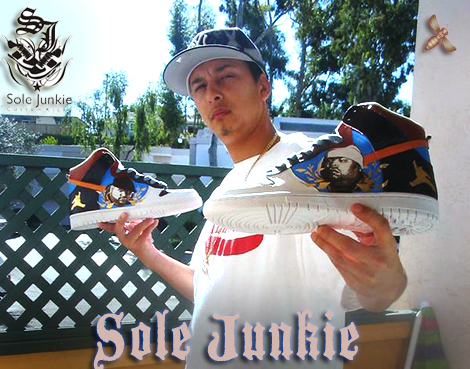 The path to greatness is different for every artist.  Influence, inspiration, and circumstance play a heavy role in one's passion for and pursuit of the creative arts.  Steve Cedre Jr. aka Sole Junkie is no exception, and has perhaps one of the more freakish stories behind his entry into the world of sneaker customization.  The story goes that SOLE got into customizing kicks after a freak accident where his son landed on his head, causing him to go to the emergency room with two bulging discs in his neck.  Having to stay at home to recuperate from the accident, one of Sole's brothers made him aware of a new art style of sneaker customization coming out of Harlem. So Sole took his brush to his kicks and Sole Junkie the custom sneaker aficionado was born. While the accident itself doesn't play a  big role in his current and future designs, it does stay on his mind as a reminder,
"that life is a trip!   It can steer you wrong or it can set you on a course you never dreamed of before.  It will start it for you, but your hard work will continue it.  It is also a reminder of not taking anything for granted or having too big of an ego. You can get it all taken away in a blink of an eye!  I try to stay humble…I'm not perfect at it…but it's a work in progress."
Sole has reason not to be too humble. As some years, and many dope sneakers later, Sole is recognized as a top member of the sneaker community and has recently released his first book showcasing his art.  The book is in stores now, and we caught up with Sole to talk about his art, both on sneakers and canvas, the importance or lack thereof of formal art education, Obama's streetwear presence, and much more.