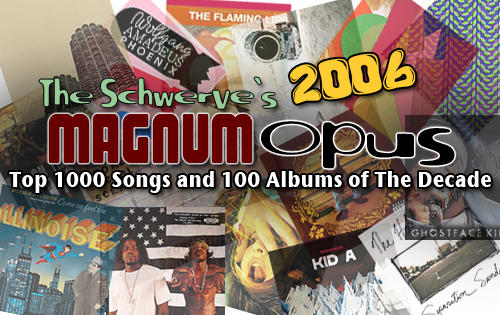 Disclaimer: Years are fairly arbitrary time periods.  The only thing that makes a decade is the human conditions' odometer fetish.  Unfortunately, like you, I'm human as well and fall prey to these tendencies.  I can't claim to know everything, I'm just an educated observer; and here are my educated observations.  They are not perfect and neither you nor I will completely agree with them in a years time, but that is the fun of lists.
Both the Man Man and Grinderman albums have grown on me through the years.  Those two still get regular plays while an album like the Raptures, which I do enjoy, hasn't aged as well. The Belle & Sebastian album, The Life Pursuit is one of their under-appreciated masterpieces, never seemed to get the acclaim it deserved.  Also that Pipettes album is just too fun to leave off.
Check out Man Man's performance of "Black Mission Goggles" live at Amoeba, it conveys fairly well the insanity of their shows.  Others to look at, Cornelius' "Fit Song" for brilliance, Chad Van Gaalen's "Flower Gardens" for a bad acid trip, and The Knife's "Silent Shout" for I don't know what.
Top 10 Albums of 2006:
10.  Junior Boys – So This is Goodbye
9.  The Thermals – The Blood, The Body, The Machine
8.  Belle & Sebastian – The Life Pursuit
7.  Cornelius – Sensous
6.  The Pipettes – We are the Pipettes
5.  Hot Chip – The Warning
4.  The Hold Steady – Boys and Girls in America
3.  The Knife – Silent Shout
2.  Grinderman – Grinderman
1.  Man Man – Six Demon Bag
Top 100 Songs of 2006:
100. The Flaming Lips – Pomeii Am Gotterdammerung (song)
99.  The Thermals – Returning to the Fold (video)
98.  Morrissey – You Have Killed Me (video)
97.  Nelly Furtado – Maneater (video)
96.  Hot Chip – (Just Like We) Breakdown
95.  Bound Stems – Wake Up, Ma and Pa Are Gone (video)
94.  The Streets – When You Wasn't Famous (video)
93.  Husky Rescue – Nightless Night (video)
92.  The Flaming Lips – Spongebob & Patrick Confront the Psychic Wall of Energy (video)
91.  The Knife – Like a Pen (video)
90.  The Raconteours – Steady as She Goes (video)
89.  Clearlake – No Kind of Life
88.  Band of Horses – Great Salt Lake (video)
87. The Pipettes – Pull Shapes (video)
86.  Ms. John Soda – Go Check (video)
85.  The Rapture – Get Myself Into It (video)
84.  Junior Boys – The Equalizer
83.  Human Television – In front of the House (video)
82.  The Whitest Boy Alive – Inflation (video)
81.  Cold War Kids – Saint John (video)
80.  Islands – Don't Call Me Whitney, Bobby (video)
79.  Hot Chip – Colours (video)
78.  The Coup – We Are the Ones (video)
77.  Fujiya & Miyagi – Collarbone (video)
76.  Loose Fur – Hey Chicken (video)
75.  Shit Robot – Wrong Galaxy
74.  Blues Explosion – Mars, Arizona (DFA Remix)
73.  Belle & Sebastian – Blues Are Still Blue (video)
72.  Cornelius – Watadori (video)
71.  Tom Waits – Lie to Me (video)
70.  The Thermals – Here's Your Future
69.  Man Man – Black Mission Goggles (video)
68.  Jarvis – Don't Let Him Waste Your Time (video)
67.  Oxford Collapse – Please Visit Your National Parks (video)
66.  Arctic Monkeys – I Bet You Look Good on the Dancefloor (video)
65.  Lupe Fiasco – Kick, Push (video)
64.  Fujiya & Miyagi – Ankle Injuries (video)
63.  Be Your Own Pet – Bicycle You Are My Bicycle (video)
62.  The Whitest Boy Alive – Golden Cage (video)
61.  Services – Element of Danger (MSTRKRFT Remix)
60.  Cold War Kids – Hange Me Up to Dry (video)
59.  Liars – It Fit When I Was A Kid (video)
58.  Cornelius – Fit Song (video)
57.  Gnarls Barkley – Gone Daddy Gone (video)
56.  Pink Mountaintops – New Drug Queens (song)
55.  Camera Obscura – Let's Get Out of this Country (video)
54.  Tom Waits – Bottom of the World (video)
53.  Clipse – Trill
52.  Chad Van Gaalen – Flower Gardens (video)
51.  Islands – Rough Gem (video)
50.  Hot Chip – And I Was a Boy from School (video)
49.  Built to Spill – Goin' Against Your Mind
48.  Annuals – Brother (video)
47.  Junior Boys – Double Shadow
46.  Shit Robot – Triumph
45.  TV on the Radio – I Was a Lover
44.  The Knife – Silent Shout (video)
43.  Man Man – Engwish Bwudd (video)
42.  Cornelius – Beep It (video)
41.  Band of Horses – The Funeral (video)
40.  Ratatat – Wildcat
39.  Hot Chip – Over & Over (video)
38.  The Hold Steady – Stuck Between Stations (video)
37.  Phoenix – Long Distance Call (video)
36.  The Pipettes – ABC (video)
35.  The Rapture – Whoo! Alright-Yeah… Uh Huh
34.  The Futureheads – Skip to the End (video)
33.  Belle & Sebastian – White Collar Boy (video)
32.  Man Man – Ice Dogs
31.  The Whitest Boy Alive – Burning (
video
)
30.  Ghostface Killah – The Champ
29.  Ima Robot – Lovers In Captivity (video)
28.  The Rumble Strips – Motorcycle (video)
27.  Danielson – Did I Step On Your Trumpet? (video)
26.  Exploding Hearts – Shattered (You Left Me)
25.  Justice – We Are Your Friends (video)
24.  Matthew Herbert – Something Isn't Right
23.  Nelly Furtado – Promiscuous (video)
22.  The Coup – Laugh, Love, Fuck (video)
21.  The Eagles of Death Metal – I Want You Soo Hard (Boy's Bad News) (video)
20.  The Knife – We Share Our Mother's Health (video)
19.  The Pipettes – Your Kisses Are Wasted On Me (video)
18.  Justin Timberlake – Sexyback (video)
17.  Man Man – Van Helsing Boombox (song)
16.  The Hold Steady – Chips Ahoy! (video)
15.  The Thermals – Pillar of Salt (video)
14.  M. Ward – Chinese Translation (video)
13.  Liars – Other side of Mt. Heart Attack (video)
12.  Grinderman – No Pussy Blues (video)
11.  TV on the Radio – Wolf Like Me (video)
10.  Phoenix – Consolation Prizes (video)
9.  Beirut – Elephant Gun (video)
8.  Gnarls Barkley – Crazy (video)
7.  T.I. – What You Know (video)
6.  C.S.S. – Let's Make Love and Listen to Death from Above (video)
5.  Justin Timberlake – My Love (video)
4.  Camera Obscura – Lloyd, I'm Ready to Be Heartbroken (video)
3.  Peter Bjorn and John – Young Folks (video)
2.  Grizzly Bear – Knife (video)
1. Junior Boys – In the Morning (video)