Future has done so much in and out of the music industry that people are still catching up on his Summer 16 lawsuit with Rocko, which has officially settled. We can't forget about the ongoing saga with Ciara, which has also settled. Then, you have Future albums and mixtapes dropping quarterly. Future's self titled album is here. The Future album was lightweight presented as an album to reveal more, show more emotion and possibly be inflammatory to get the internet going nuts.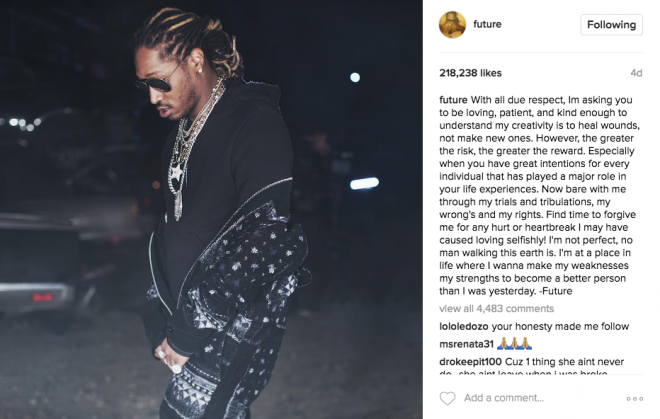 What we really get is a lot of the same old Future, with spurts of lyrical clues and a slight switch up in the production as the album plays.
In traditional Future fashion. The first song is hard! I like "Rent Money" and it's an expected standard from Future. "POA" is obviously Future recognizing the jam he is in financially and his plans to go down swinging. "Scrape" is going to get played for all the aspiring dope boys that want VIP in the club. The most "revealing" track on the album is "Might As Well". Future mentions how Child Support is hitting him hard and how he was selling crack when Snoop dropped Gin and Juice. The "When I Was Broke" hook is going to be on thousands of IG captions this year. Just wait on it.
The big plus on the Future album is the switch up in production. It's not the standard turn all the up, head bussing bass every track. Future's got some tracks on here that you could honestly ride to just the instrumentals. The subject matter doesn't broaden, but the sound will be easier to digest. Especially for those who are not Future fans.
At the end of the day everybody loves Future, and Drake helped his national appeal. I wasn't expecting something lyrically savvy and ground breaking. I expected Future to solidify the wave he created, again. He did that. We're at the point where either you like Future or you don't. You're opinion won't change with the Future album. Sex, Money, Drugs and Draco's. Where you really expecting something else?
Check out another review here.