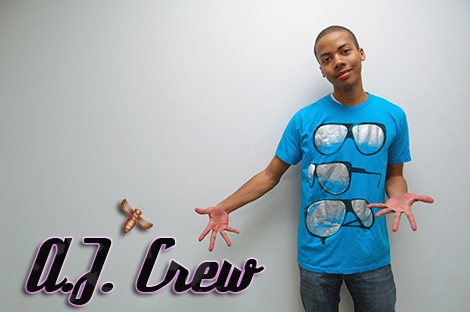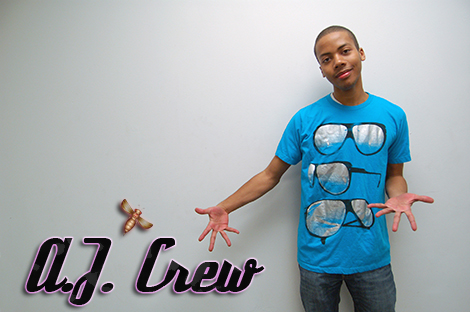 My first meeting with A.J. Crew came at SoundScape studios, where I was working with Michael Kolar on something or other.  I asked the kid if he was working on something at the time, and he said that he wasn't, that he was just at SoundScape to hang out.  What he really meant was watch and learn.  Many times at SoundScape I would find the unassuming Crew sitting on various couches while working on his lap top, sitting in during studio sessions, and of course, working on his own Nightmares and Daydreams, his first formal project that will see it's release on September 1st.  Crew's first run is similar to many starts nowadays, with a free collection of work, spread viraly to gain an audience.  However, Crew is quick to point out that Nightmares and Daydreams is a free-album, not a mixtape.  He tells us, "Calling your project a "mixtape" gives it a certain connotation. People instantly think a DJ, drops, other people's beats, remixes, poor recording quality. A "free album" is what it is. It's a project that was went about like creating an album."
There's another, more pronounced difference between Crew and others his age that are just getting started on presenting music to the public,  Crew's studio-ratness allowed him to soak up technical skills and the engineering talent of one of Chicago's top studios, as well as let him build with the studio's other clientele, including Rhymefest, who heard Crew's "Destiny & Desire" and decided to provide the upstart with a guest verse.  We learn the story behind that encounter, as well as much more as Crew goes under the First Look microscope.
RubyHornet:  We know you're from the Chicago scene, but did you always grow up here? 
A.J. Crew:   I actually grew up in Toledo, OH. Medium sized population, not too much is going on there, though. Ohio as a state is dope, not so much with Toledo. Don't get me wrong, we have Lyfe Jennings, who's a really great artist, Jamie Farr from M*A*S*H and Katie Holmes but that's about it. I'm also very familiar with the whole Cleveland Hip Hop scene. I definitely grew up on Bone Thugs-N-Harmony! I'd say Kid Cudi is representing Ohio the best right now. He's definitely overdope. 
RubyHornet:  You recently moved back to Ohio, how hard is it for you as an up and coming artist to be changing regions at such a precious time in your career? 
A.J. Crew:  It's definitely one of the hardest things I've had to do. The whole time I was getting ready to leave, a lot of supporters, business partners and friends were asking about it and just being supportive overall. I know that I can count on the people I have still in Chicago to hold me down until I'm able to come back. The only thing that's wack about it is it's because of money. Like, people should be able to pursue their dreams based off of determination, skill and talent without having to think about finances. That's stupid. 
RubyHornet:  You've been making a strong buzz with the Rhymefest assisted single, "Destiny & Desire." How did you hook up with 'Fest? 
A.J. Crew:  It's just another one of those "right place, right time" stories. Me and Rhymefest happen to record in the same studio with the same engineer, Michael Kolar, and Fest came through one day for a meeting as we were wrapping up a mixing session for the original version of "Destiny & Desire". He stepped in, introduced himself, etc. and just vibed on the record and asked to be on it. That was definitely a blessing. Nothing that I could have foreseen at all. I think that was definitely the work of God and His plans for what was meant to be for this project, etc. 
RubyHornet:  Do you feel that a strong co-sign is vital for an up and coming artist? 
A.J. Crew:  A co-sign helps out a lot. Is it necessary? No, but if you really think about it, I can't really name any new cats like the present XXL Freshman 10 that has made a name for themselves without someone claiming a certain artist is gonna be the next big thing. You can go down the list! Cudi and Kanye. Asher and Cannon, Steve Rifkind and co. Charles Hamilton and Interscope. And yes, that IS a co-sign because 50 Cent and all of them basically gave him the promo he needed to push his music to the people. Not a lot of people make it without one. 
RubyHornet:  How can someone distinguish your music from the plethora of electro hipster rap that has taken over? 
A.J. Crew:  Well, first and foremost, I wouldn't at all describe my music as electro hipster rap! I'd self-describe my music as just honest thoughts, opinions or concepts. But one way that I distinguish myself is the subject matter. A majority of artists when talking about females, for example, usually brag about their sex life. I try to stray away from that as much as possible because that's where my morals and my music coincide. Don't get it twisted, I don't intentionally censor myself, that's just my thought process. But yeah, you can definitely hear the difference between me and a lot of other cats just through subject matter alone. That's not even getting on the topic of production, lyricism, etc.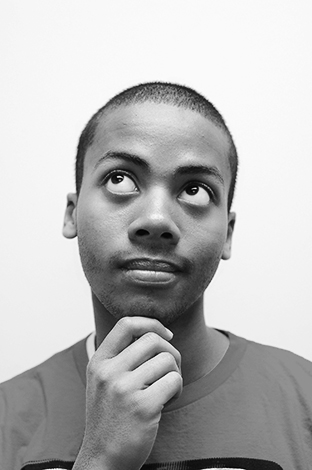 RubyHornet:  You are connected with Chicago's Soundscape Studios whom we partner with quite frequently; can you explain your affiliation with the powerhouse studio? 
A.J. Crew:  Yeah, Michael Kolar is my engineer/producer and he actually executive produced this album with me. Soundscape Studios sponsors a majority of my company's (Thrift Store ENT.) upcoming projects, including Nightmares & Daydreams. I had recorded with Mike a few times before I formally approached him about becoming business partners and he believed in the music and saw something in me. I'm definitely grateful for that. 
RubyHornet:  Do you feel less pressure when you just have to worry about coming with the music as opposed to finding a studio, producer, engineers, etc. to be behind your music? 
A.J. Crew:  Definitely, especially considering the fact that sometimes studios don't really care about what happens to your music. Soundscape is definitely an environment where they go the extra mile for their clientele. It gives me the freedom to focus on my music, being creative and just being relaxed overall. 
RubyHornet:  Your debut free album/mixtape, Nightmares & Daydreams, is on the heels of it's release, how are you preparing? 
A.J. Crew:  Just preparing by reaching out to different business associates about it, leaking music, talking to the fans through Twitter, Facebook, etc. and just promoting everyday. I almost never leave my MacBook Pro alone for more than 15 minutes! But the work that I put in one day gives me the room to be more casual the next, but in my mind I'm always in grind mode until I see that deal on the table and I have a pen in my hand. Even then, I'll be in grind mode, but it'll just be in a different phase. 
RubyHornet:  What can we expect from Nightmares & Daydreams? 
A.J. Crew:  I'd say just say honest, original music. A lot of people say that their project is "classic" or it's the best of the year, etc. but all of that is subjective. I'm comfortable in saying that the body of work that I've created is what I really feel, believe and think and it's something that no one can duplicate because no one else is me. 
RubyHornet:  Why do you use the title of a 'free album' as opposed to a mixtape and why should people know that? 
A.J. Crew:  Think about it. Calling your project a "mixtape" gives it a certain connotation. People instantly think a DJ, drops, other people's beats, remixes, poor recording quality. A "free album" is what it is. It's a project that was went about like creating an album. With the utmost quality, mostly original production and best of all it's available to the public at no cost! It's important that people know the difference because anyone can do a mixtape, but not a lot of people can make a cohesive, great sounding free album. 
RubyHornet:  You're fairly new, but your buzz is already at the stage that it would take most emcees a year or two to create. Is this something you would say you pride yourself in? 
A.J. Crew:  I'm definitely grateful for it, but I try not to think about that because it gives me an excuse to slack off almost. I don't wanna take my buzz and current success for granted because it can all evaporate tomorrow so I'm steadily working towards the buzz being harder to ignore. But it's definitely nice to be taken seriously in this game so early. 
RubyHornet:  What advice would you give to other artists who are trying to create that buzz but they don't have the right tools and backup support? 
A.J. Crew:  I would say networking is the key. You definitely have to be in an environment where great music and great musicians are being made. Getting to know people in your area is the best way because all of my industry connects were made either through meeting someone at the studio, at a show, through a friend or just being at the right place at the right time. But you can't just sit at home on Twitter all day and expect to get on. You have to be seen. 
RubyHornet:  Finally, what can we expect from you in the near future besides the obvious release of your debut?  As far as a formal project?
A.J. Crew:  That's still a little bit too early to say. I have a few ideas but nothing completely in the works. But expect greatness. We all have problems. We all are capable of being successful. How we deal with our problems is what makes us a success or a failure and I don't plan on failing anytime soon.