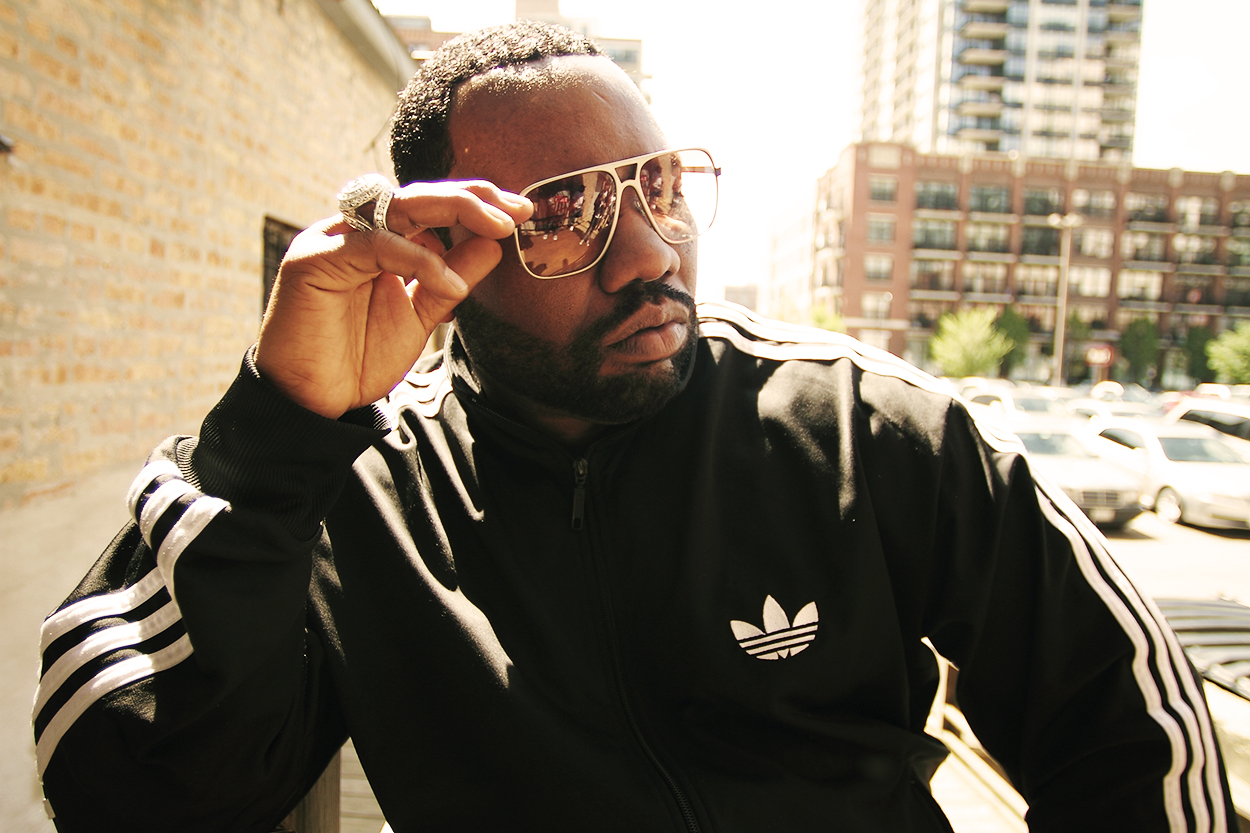 (click image to enlarge)
Photo by Virgil Solis
Words by Alexander "RTC" Fruchter
"Is that Ruby… Is that Ruby?" Raekwon says as I enter his hotel room just a few blocks from our office on Halsted Street.  It's a slightly cool May afternoon, and less than an hour ago Raekwon and his camp pulled into Chicago for the latest stop on his Shaolin Vs. Wu-Tang tour. Rae is in the bathroom getting a haircut when I walk in and say hello to the rest of his crew.  "What up, A?" he says as I enter the doorway to properly say hello.  He has a rare day off before his show the following night at The Mid and is using it to knock out some appearances and film a new video for "Snake Pond", a stand out cut from his latest album.
"Do you know these guys?" he asks, hitting me with another question, and referring to the team responsible for filming his new video.  "Elephilms? Definitely. They're good people," I answer, assuring Raekwon that he has nothing to worry about.  "I'm all about building," he says.  "I just don't want to waste any of my time."  It's the last statement that resonates with me, and a theme that came up again the following day when Rae came through our office.  At 41, it seems as though Raekwon is entering a second prime and has no time to waste.  In 2009 he released the long-awaited Only Built for Cuban Linx II, an album that hit number 4 on the Billboard charts and catapulted Raekwon into the minds and speakers of Hip Hop fans everywhere.  He followed it up with the 2011 album, Shaolin Vs. Wu-Tang, a March release that some consider one of this year's best.  In between he toured heavily and took on the work ethic of a new artist still looking for his big break. It's all part of a bigger picture and a bigger outlook, one that the Chef says has been refined and focused over time.
"I won't let myself fall short in any sort of failure," he tells us while standing outside our office in the West Loop. The video went well the night before, and Rae spent the early part of this day knocking out some radio interviews before going to an in-store at Jugrnaut, and his concert at the Mid.  "I realized my powers, where I went wrong with certain things, and where I'm able to fix things.  That's all I've been working on for the last 5 years, self-preservation," he says.  Some of this reflection has come from a recent viewing of "The Temptations", a film detailing the legendary soul group.  He sees a lot of parallels between the Temptations and his own crew, Wu-Tang Clan. "It reminded me of us, the brotherhood side, the ego side, the money started coming and certain things started to change."  And while the Temptations' story doesn't really have a happy ending, he sees something different for the Clan.
"I always know that Wu-Tang is dysfunctional in its own way, but our hearts are golden.  That's what keeps us all there. We all got great hearts.  N***as will give you the shirts off their back.  They will let you crash at their crib. We're kind of blind to everything else."
Raekwon definitely has the blinders on at this time in his career.  In the video below he talks about his current stage of self-preservation as he continues to cement his musical legacy.  He also speaks on connecting with Nas during a trip to Norway where they filmed a video for "Rich and Black".  While the video was definitely a highlight of the trip, for Rae, the connection off the record was just as meaningful.
Video by: Tony Shane